A.R.I. Air Valves Saves Waterworks Time And Money In City Of Airdrie
Articles > A.r.i. Air Valves Saves Waterworks Time And Money
Published: Tue, Mar 15, 2016
Tags:
A.R.I.
,
A.R.I. Air Valves
,
Airdrie
,
Air Valves
,
Alberta
,
ARI
,
Cost Reduction
,
Forcemain
,
Municipal
,
Pump Main
,
Savings
,
Water
,
Waterworks
Based on a track record of delivering on performance promises, A.R.I. combination air valves were once again specified for a new sewer forcemain by the City of Airdrie, Alberta.
A forcemain is a pressurized main pipe that can carry water or sewage. To achieve optimal performance from these critical pipelines, city infrastructure departments use air release and combination air valves on their forcemains.
The Airdrie Public Works Department first learned of A.R.I. air valves in 2003 when they were looking to replace the traditional combination air valves on the 350 mm 200 PSI water line connecting them to Calgary, several kilometers away. The existing 50 mm diameter air valves were corroded and cumbersome to work with in the chamber.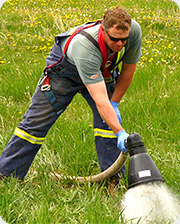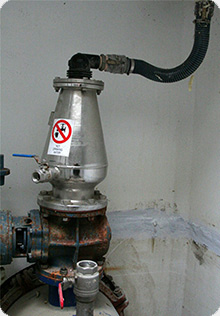 Our local representatives introduced Dave Johnson and his crew to the advantages of the superior solution offered by the A.R.I. D-040 combination air valve. The A.R.I. air valve is NSF61 certified, 1/10th the weight of the existing valve, has a five year warranty and expels 4 times as much operational air. These features topped with a competitive price piqued Mr. Johnson's interest and nine D-040 air valves were installed. To date, the A.R.I. air release valves have worked flawlessly in unheated insulated chambers when surface temperatures have dipped to -37°C.
This experience prompted the city to install A.R.I. air valves on the existing sewage forcemain to Calgary. A.R.I. model D-025 combination sewage air valves were selected for the existing 600 mm diameter forcemain. Although some of the valves were exposed to some grease plugging, as all air valves are, city crews found the light weight and ease of flushing to be a significant improvement over the original products. Although cleaning the A.R.I. air valves was easy to do on site, the city was quick to adopt A.R.I.'s suggestion to back-flush the air valves into the forcemain from surface with hot water. This modification was environmentally sound, simplified cleaning procedures, successfully minimized the need for confined space access and reduced costs.
In 2004, the city retained BSEI Engineering to design a new twin 600 mm diameter forcemain to handle Airdrie's explosive growth (population 30,000 and still growing fast). BSEI engineers and the city maintenance team worked together closely to take full advantage of the experience with A.R.I. air release valves. The new chambers employ A.R.I. D-020 stainless steel air valves. The exhaust from each air valve is hard piped to the surface for venting and for remote attachment of back flush equipment. Isolating valves can also be operated from the surface. Once again, the A.R.I. air valves minimize or eliminate expensive confined space access! The new forcemain will be commissioned in the next few months, once the pump station is completed.
A.R.I. and Martech (now infraStruct) appreciate the innovative spirit and cooperation extended to us by the City of Airdrie Public Works Deptartment and BSEI Engineering.