InfraSeal Modular Mechanical Seals
Municipal > Water > Modular Seals

Tags: Civil, Electrical Isolation, InfraChoice, InfraSeal, Infrastructure, Mechanical Seals, Modular Seals, Multi Purpose, Pipe Sealing, Water Pipes, Water Systems


How do you seal your pipes quickly, safely and securely? infraStruct offers a faster pipe sealing method than your everyday caulk, grout, or mastic, with InfraSeal Modular Mechanical Seals.

Infraseal is used in a systematic approach for installers to easily seal the annular space between the carrier pipe and the ID of a wall penetration. Infraseal is also designed to absorb vibrations, shocks and sound waves and act as a sound dampener while electrically isolating the carrier pipe from the penetrated structure.
Infraseal is made from synthetic rubber with industrial strength U.S. manufactured pressure plates and is available in a wide range sizes. Infrastruct offers 21 different sizes for all pipe diameters ranging from 1/2" to 144" and form a hydrostatic seal up to 40 psig and up to 92.28 feet of head pressure.
Infraseal is available in five different types for various applications: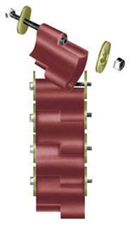 Model UL
UL Approved 3-hour fire-rated Proprietary Silicone

Suitable for fire-resistant applications, which is the only UL-approved modular mechanical seal on the U.S. market.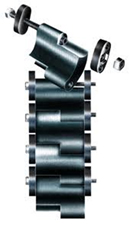 Model C
Standard EDPM

Suitable for most standard applications including above ground projects and direct underground burial in wet conditions.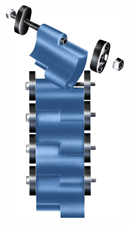 Model L
Low Durometer EPDM

Suitable for conduit, insulated pipe, copper pipe, or thin-walled pipe.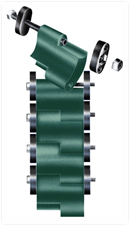 Model O
Oil, Gas, & Fuel Resistant Nitrile

Suitable for most hydrocarbons, oils, hydraulic fluids, jet fuels, gasoline, chemicals, and solvents.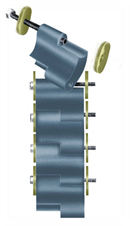 Model T
Extreme Temperature Silicone

Suitable for extreme temperatures up to 400°F.
Various Applications
Industrial/Mechanical: Wall, Floor & Ceiling Penetrations, Hospital Mechanical, Quiet Rooms, Electronic Equipment Rooms, Fire Walls, Boiler Rooms, Aquariums, HVAC Systems, Plumbing - Commercial & Residential, Swimming Pools, Decorative Fountains, Septic Tanks, Parking Garage Column Protectors, Vibrations, Shock & Sound Dampening, Pumps & Tanks, Power Plants, Power Generation Dams, Ship Bulkheads, High-Pressure Tank Guards
Water/Waste Water: Cased Road Crossings, Cased Railroad Crossings, Bridge Pipeline Crossings, Waste Water Treatment Plants, Public Works, Manholes & Precast Concrete
Oil and Gas: Offshore Platforms, Berms & Dikes around Tank Farms, Electrical Isolation for Corrosion Protection