Product Return Policy
Which category does your product return fit under?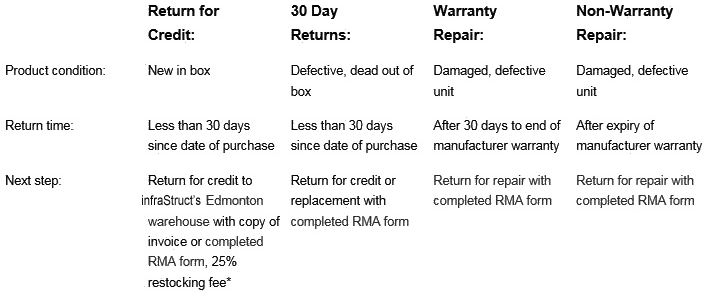 Standard Return for Credit
Products eligible for return:
New-in-box, unused products purchased directly by you from infraStruct.
All product returns must be made within 30 days of the purchase date.
All original packaging and accessories, including the retail box, manuals, cables, and all other items originally included with the product must be returned.
Products that are not eligible for return and will be sent back to you at your cost and expense if received by us:

Any product not purchased from infraStruct
Any product without a valid, readable serial number, including but not limited to products with missing, damaged, altered, or otherwise unreadable serial number
Any product that is returned without all original packaging and accessories, including the retail box, manuals, cables, and all other items originally included with the product
Any product from which the UPC code has been removed from its packaging

infraStruct cannot accept returns on used or discontinued product.
The customer assumes all shipping costs associated with the return.
A standard restocking fee of 25% will apply.
* Returning non-stock and special order products
* Non-stock and special order products may be returned for credit within 30 days of purchase if the manufacturer agrees to accept the return. If your product was a non-stock or special order item, an additional manufacturer restocking fee may apply.
Defective/Damaged Product Return Policy
infraStruct and our Manufacturers stand behind the products we represent. If a product defect is the result of a manufacturing production and packaging process, a full credit or replacement will be issued.
What is defective product?
All products that are faulty or require service within 30 days of invoice date are considered defective or dead out of box product.
All claims for a defective product must be made within 30 days of invoice date.
Defects due to improper use and application are the responsibility of the customer.
Any replacements shipped to the customer will be invoiced for and credited upon the return of the defective product.
Upon testing the returned product, the replacement product will be shipped to the customer at infraStruct's expense.
Advance Replacements
infraStruct will ship replacement units in advance of defective units being returned if a request for advance replacement is accompanied by a new customer purchase order or cash payment. Once the defective product has been received at infraStruct, you will be credited in full for the cost of the replacement unit.
Should product testing results prove improper use and/or improper installation by the customer, the product will be repaired under warranty, returned to the customer and no credit will be issued. Advance replacement products cannot be returned if they are opened and used.
Warranty & Non-Warranty repairs
What products are eligible for warranty repairs?
Any product that requires service or replacement and is past the 30 day defective policy period.
Warranty terms vary by product and manufacturer. Your owners manual and/or the manufacturer product web page will list specific warranty provisions.
All warranty or non-warranty repairs are to be handled on a case by case basis by infraStruct's customer service representatives. Please fill out a claim form and you will receive confirmation of your request within 24 hours.
Products sent for repair are returned to the customer once repairs are complete.
Shipping Damages & Discrepancies
All wrong shipped or short shipped product issues will be resolved immediately. Replacements will ship within 24 hours of notice (depending on stock availability).
If there is damage due to shipping it is the responsibility of the account holder to follow-up with their carrier for all claims.
All claims against infraStruct's carrier accounts must be made within 30 days. All damages must be listed on the delivery bill of lading.
RETURN A PRODUCT TO INFRASTRUCT
Complete the Return Merchandise Authorization (RMA) form.
Print completed form and include it with the product you are returning to infraStruct.
Ship your return to our Edmonton warehouse.
A customer service agent will contact you in regards to the status of your return.