Our Mission and Vision
Today's proven solutions to yesterday's problems.
People matter
The Environment matters
Value matters
Integrity, Quality & Professionalism matter
Fun matters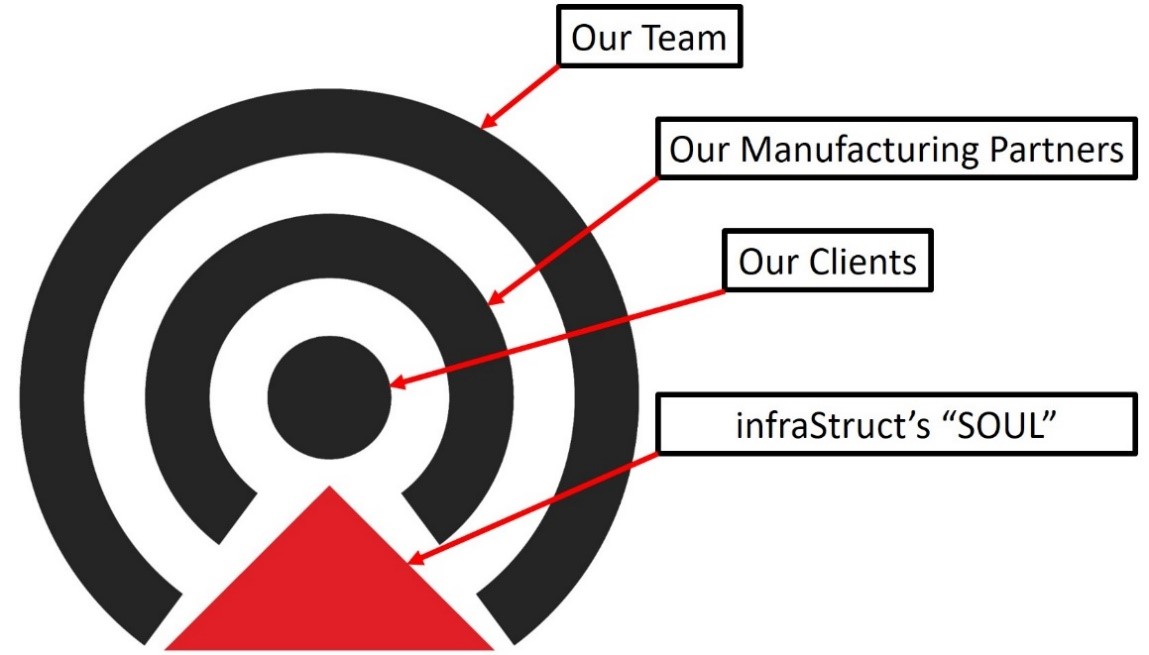 The outer rings of our logo represent all our stakeholders – the "body" of what we are:
Our Team is every single employee that calls infraStruct home and everything starts with them. Their passion, commitment and work ethic drive the nuts and bolts of the infraStruct machine making sure products and services from Our Manufacturing Partners are delivered reliably and successfully to Our Clients.
Our Manufacturing Partners are the numerous companies and their employees who are the experts in their respective fields and who have chosen infraStruct to ensure that the great products and services they make enable Our Team to always bring the right solution to Our Clients.
Our Clients are the hardworking people who strive to ensure critical infrastructure such as water, sewer and drainage distribution systems and many other assets are properly built and maintained in the most optimal and cost-effective way possible for their clients – the residents/tax payors. This includes municipal team members at every level, independent consulting engineers and contractors.
The red triangle of our logo represents the "soul" of who we are:
infraStruct's Soul is the sum of our core beliefs and values. It governs everything from our basic daily actions to decisions of the highest importance.
It is at the heart of our family first mantra – and ensures Our Team goes home safe and sound to their families.
It is heard in every belly laugh that occurs in every one of our meetings.
It is seen in every action we take to help all our stakeholders reduce our collective carbon footprint.
It is found in the burning desire to find and deliver meaningful, sustainable and effective solutions EVERY SINGLE TIME!