ARI D-060 Self Contained Direct Bury Air Valve With Non-Slam Protection
Articles > Ari Do60 Self Contained Air Valve
Published: Wed, Mar 16, 2016
Tags:
AIR SLAM IN A PIPELINE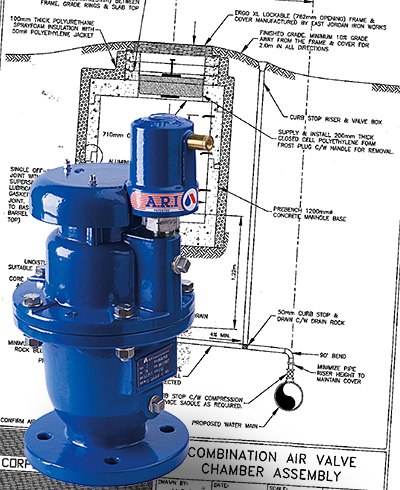 The final release of air through an air valve produces a pressure surge. This phenomenon, called "air slam", is caused by the rapid deceleration of liquid in a pipeline at the instant the air is fully expelled from the line.
Air slam produces a pressure surge similar to the one produced by the rapid deceleration caused by a valve closure.
If air is released too quickly from the line, excessive air slam pressure surge can occur. Proper sizing and placement of air release valves is necessary to avoid excessive air slam pressure surges. If air slam is a risk, choose an air valve with a non-slam device to reduce the surge impact within the pipeline, extend the pipe's service life and lower the chance of a water main break.
NEW HIGH PRESSURE WATER LINE IN PEACE RIVER, ALBERTA
A new high pressure water line is transferring water in Alberta's Peace River region. A typical air valve would not be able to handle the pressure and surge within this pipeline. The design engineer worked with Martech and ARI to developed a workable solution for this pipeline with the new D-060-C-HFNS-03-SB air valve.
This air valve is designed to handle high pressures, high flow and it is also designed with non-slam protection for to reduce the effect of air slam pressure surge.
The direct bury air valve kit reduced the manhole barrel height for easier maintenance.
One other interesting note: we also used EJ ERGO locking manhole frame & cover for this project. This will improve safety and prevent intrusion!
ASK INFRASTRUCT FOR NON-SLAM AIR VALVES for HIGH PRESSURE WATER LINES
ARI is represented in Canada by infraStruct/Martech. Send a request for more information about ARI's innovative, reliable air valve products. Thank you for your interest!