ARI D-040 Air Valves Release Air From Water Pipes In Small Town Saskatchewan
Articles > Ari_d040_air_valves_release_air
Published: Tue, Mar 15, 2016
Tags:
A.R.I.
,
Air Valves
,
ARI
,
ARI D-040
,
Municipal
,
Pressure Buildup
,
Saskatchewan
,
Small Town
,
Utility Operator
,
Water
,
Water Pipes
PROBLEMS FOR SMALL TOWN UTILITIES OPERATORS
What do you get with air in your pipes?
Low flow rates
Pumps have to work harder
Danger of pipe collapse due to negative pressure during drain cycles
Increased rate of corrosion inside pipes due to more oxygen in the line
Sporadic expulsions of air from household faucets
I recently visited a small town in Saskatchewan with air in its water pipes. The Water & Sewer Operator told me his big clunky cast iron air valves weren't working – air wasn't able to leave (or enter) the water system because the valves weren't performing like they were supposed to. He asked for help in finding a valve that would perform correctly.
I showed them the ARI D-040 combination air release / vacuum valve. Plastic, lightweight, modern and simple to install and maintain. The Waterworks Operator was very intrigued.
SWITCHING TO ARI'S PROVEN AIR VALVE SOLUTION
The day after I left, he ordered two D-040 ARI air valves from his local distributor to try on his distribution pumps. After installing his two valves, he got instant results. He was so impressed at the ease of installation and the immediate results that he went back to the distributor and ordered six more D-040 air valves to replace all the defective valves currently installed in their water distribution pumphouse.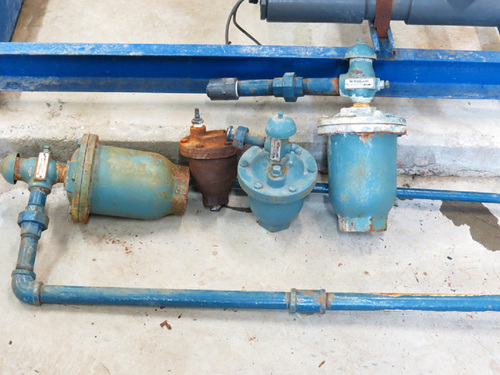 When I visited a couple of weeks later to ask how things were going with the new ARI air valves, he told me he could not be happier. The D-040 air valves were easy to install and were performing perfectly, something he was not used to.
Before, he had to bang on air valves with a hammer to loosen up the internal mechanical valve components enough to give minimal performance. (You can see some hammer marks on the old valves.) He stated that residents in the town were getting air coming out of their kitchen taps as a result of the air valves not working properly.
RESULTS – WHAT'S HAPPENING NOW
Now he says he can hear the valves working when he is in the pumphouse. He has installed four new ARI D-040 valves on his distribution pumps and one D-040 each on the transfer pump, filter unit, back wash pump and on the pre-filter. Flow rates have improved and the "air coming out of the kitchen taps" problem has gone.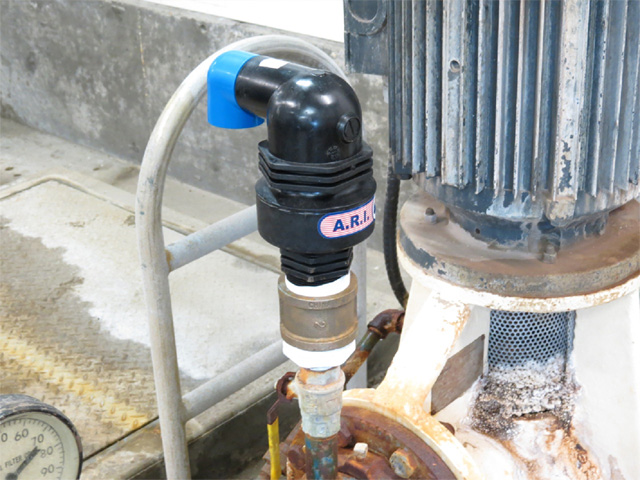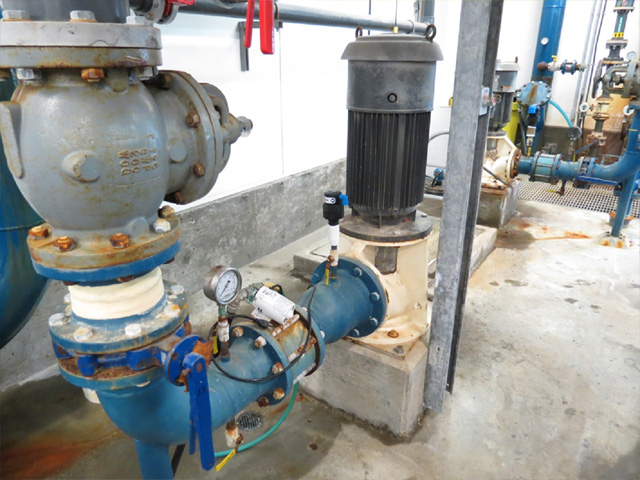 SEE THE PROJECT DETAILS AND THIS FOREMAN'S TESTIMONIAL
To see high resolution photos of this installation and a testimonial from the town's Waterworks Operator, contact one of our representatives and we will forward the project details to you within one business day.