Repair of Concrete Bridge Cold Joint Separation Crack
Articles > Concrete Bridge Cold Joint Separation Crack
Published: Tue, Mar 15, 2016
Tags:
Alberta
,
Alberta Transportation
,
Bridge Repair
,
Cold Joint
,
Cold Joint Separation
,
Concrete
,
Gap
,
Infrastructure
,
Municipal
,
Prime Resins
,
Roadworks
,
Separation
,
Vermillion Dam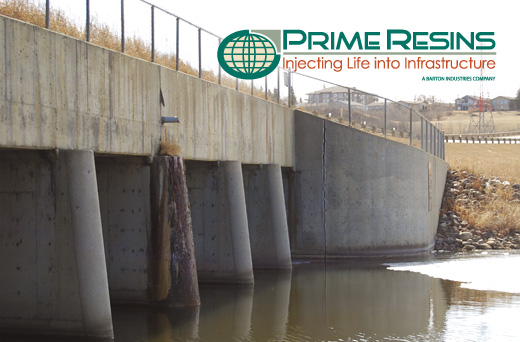 The Vermillion dam and bridge crossing has been an integral part Central Alberta's reservoir and irrigation system for decades. The cold joints at either end of the dam have recently separated. This deterioration has created a gap in the wall as wide as 3.5″ at certain points.
This cold joint separation can lead to increased amount of pollutants in the reservoir, road deterioration and, if left untreated, a catastrophic failure in the dam and bridge.
Alberta Transportation investigated several repair options for this bridge, but they all required the reservoir to be drained to facilitate the rehabilitation project. Draining the reservoir was a massive expense that went far beyond the budget scope for this type of project. They needed another way to repair the cold joint separation.
How they fixed the cold joint separation crack without draining
Prime Resins and a local contractor partner were able to provide an innovative cold joint repair.
Using Prime Resins Oakum saturated in Prime Flex 900 to seal the surface of the cold joint gap. With a new surface in place, Prime Flex 900 was injected into the annular space to seal the remaining subsurface gap. Finally, a protective epoxy cover was applied to the surface.
Cold joint Prime Resins repair "before and after" results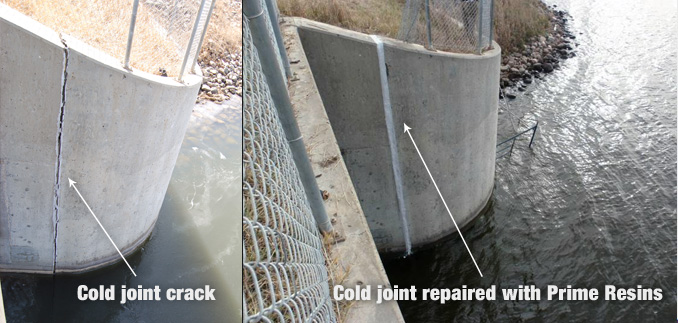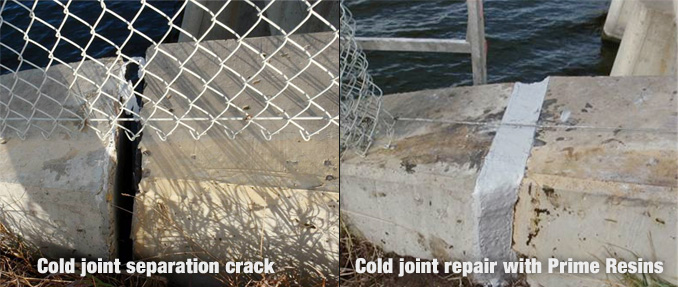 All of the products used to fix this cold joint separation are NSF61 Certified, safe for drinking water. This means the reservoir water is not at risk from toxic sealants or roadway contaminants. Alberta Transportation saved substantial costs by completing this repair project with Prime Resins instead of a) trying alternative repair methods or b) doing nothing and allowing the problem to continue into the future.
Let us answer your Waterworks and Transportation Repair questions.
Contact your local infraStruct (previously Martech) representative to discover what innovative solutions we can bring to your transportation rehabilitation projects. Our infrastructure experts will make your job easier.