Designing High Pressure Water Lines With Air Valves And Pipe Couplings
Articles > Designing High Pressure Water Lines
Published: Tue, Mar 15, 2016
Tags:
Airdrie
,
Air Valves
,
Alberta
,
ARI
,
Calgary
,
High Pressure
,
High Pressure Water Lines
,
Hymax
,
Municipal
,
Pipe Couplings
,
Water
Calgary engineers designing a high pressure water line to service the rapidly expanding city of Airdrie used TPS Hymax pipe couplings and ARI D060 air valves to solve important problems in the pipeline design.
DESIGN CONSIDERATIONS ON THIS HIGH PRESSURE WATER LINE
Air release/vacuum valves that can handle the 160 psi (11 bar) operating pressure on this 24″ diameter pipeline
Couplings that can also handle that high pressure 160 psi flow
Engineering consideration: couplings need to accommodate deflection in the pipe over the life of the pipeline
Contractor consideration: air valves and couplings that are easy to install (save labour time)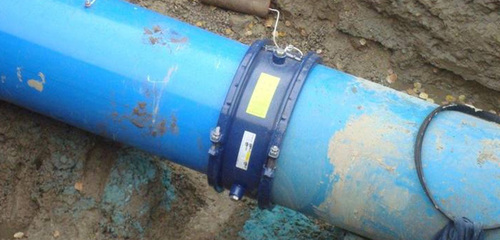 WHICH PIPE COUPLINGS TO USE ON A 24" HIGH PRESSURE WATER LINE?
The TPS Hymax HYCO24 pipe coupling is installed with 4 bolts by two people in about 45 minutes. This means the 4-bolt Hymax large-diameter coupling can be installed 90 minutes faster than its 12-bolt competitor.
The Hymax coupling satisfied both the engineer's and contractor's demands. The couplings are installed easily and quickly in a trench that doesn't need to be as deep as the competitor's 12 bolt version. The labour savings realized during the installation of the Hymax pipe couplings saved money for the contractor and the municipality.
The compression seal design in the Hymax pipe couplings allow up to 8° of deflection in the pipe (4° at each end of the coupling). As the heavy concrete chamber settles over time, the deflection allowance from the coupling means that the pipe won't crack or rupture from stress at the coupling.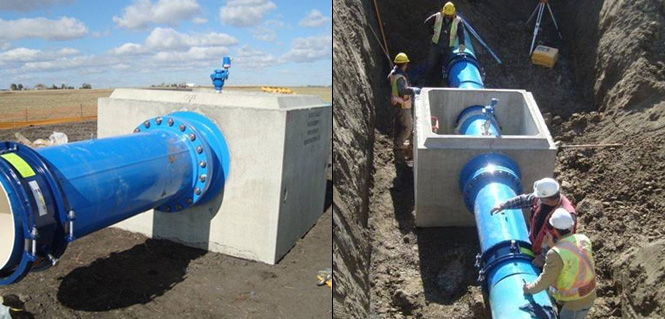 WHICH AIR VALVES TO USE ON A HIGH PRESSURE WATER LINE?
ARI's D060 high flow combination release/vacuum air valve was selected for this potable water pipeline. The air release function of the valve automatically releases pockets of air from the pipeline when it is full and operating under pressure. The vacuum component allows large volumes of air to flow in and out of the pipe during the filling or draining operations. This valve will open to relieve negative pressures if water column separation occurs.
USE INFRASTRUCT FOR PIPELINE DESIGN ANSWERS
infraStruct/Martech represents both ARI and TPS in Canada. We want your pipeline construction projects to be successful. If you are designing a new water line, please contact us.