Kypipe Adds Dynamic ARI Air Valves To Their Pipe2012 Design Software
Articles > Kypipe Adds Dynamic Ari Air Valves
Published: Tue, Mar 15, 2016
Tags:
,
A.R.I.
,
Air Valves
,
ARI
,
ARI Air Valves
,
Design Software
,
Dynamic ARI Air Valves
,
Kypipe
,
Municipal
,
Software
,
Water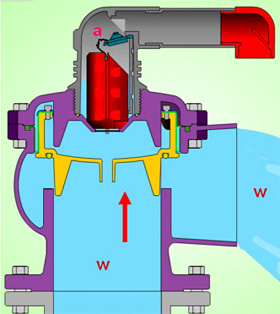 AIR RELEASE VALVES FOR PIPELINE FLOW PERFORMANCE
KYPipe has been developing and supporting pipe system hydraulic flow analysis software for over 40 years. PIPE2012 is the most widely used pipe system hydraulic flow analysis software in the world. The strength and flexibility of PIPE2012 has made KYPipe an industry leader and the sophisticated algorithms used to analyze Steady State, Surge, Gas and Steam systems have been endorsed by leading experts in this field.
KYPipe has recognized the value of ARI's Dynamic Air Valve to effectively prevent surge conditions in a pipeline. The ARI D070 air valve is now modeled within the KYPipe software for designers to use in their pipeline systems.
ARI is an innovative designer and manufacturer of pipeline air management products being used by municipalities and industries around the world. ARI would like to thank KYPipe for their endorsement!
LEARN MORE ABOUT ARI AIR VALVES
ARI is represented in Canada by infraStruct/Martech. If you would like a demonstration of how ARI's air valves manage the air in a pipeline, please send an inquiry to the technical sales team.