Snow Storage Site Uses A.R.I. Air Valves On Water Drainage Pipeline (Video)
Articles > Snow Storage Site Uses Ari Air Valves
Published: Tue, Mar 15, 2016
Tags:
A.R.I.
,
A.R.I. Air Valves
,
ARI
,
ARI Air Valves
,
Municipal
,
Pipeline
,
Snow Storage Site
,
Video
,
Water
,
Water Drainage
Combination air release/vacuum valves release air from the line when filling and allowing air to reenter the line when draining. In the spring of each year, melting water from Edmonton's snow storage and melting sites flows into pipelines that drain to the North Saskatchewan River. Installing air valves on these pipelines is necessary for optimal flow and efficient pump operation. Managing the flow of water from Edmonton's new northeast snow storage site was a problem that design engineers and project managers knew how to handle. The 12 km pipeline from the snow storage site to the nearest storm drainage main required air release/vacuum valves to function properly. They specified the ARI's modern D-020 air valve for the pipeline. Older pipeline designs specified a "long body" air valve traditionally used with potable water, not raw water or wastewater. The long body air valves were being rendered inoperable by dirt and grime floating in the melting snow water. The non-functioning long body air valves were allowing air to be trapped in the pipeline which slowed the flow of water. Not good!
Traditional "long body" air valve compared with modern ARI D020 air valve
The long body shape does not provide much room between the float and valve walls, making it very easy for dirt and grime to render the float immobile. ARI's family of air valves for wastewater solve this problem by using a bell-shaped conical design to keep the float away from the sides of the valve wall.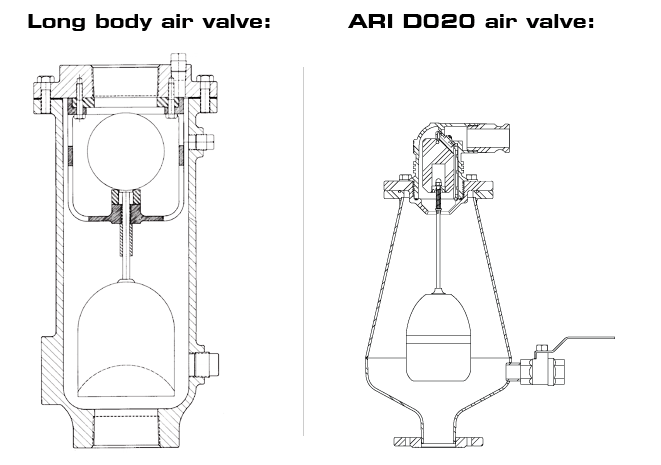 Traditional "long body" design leads to service and performance issues
In a turbulence situation, any movement of the traditional air valve's float causes an equal movement of the ball-plug. As turbulence bounces the float, the ball-plug bounces too. As the plug bounces, more and more air escapes, dwindling the air pocket. In the turbulence within the air valve, dirt is splashed up to the sealing mechanism and orifice seal, causing leakage and damages.
Learn more about how ARI's innovation offers reliability and long-term performance
ARI air valves are a highly reliable solution for drinking water, raw water and waste water. The design engineers and Roadways Maintenance team selected the ARI D020 air valve for its reliability and long term performance capabilities.
For a detailed profile of this project (including 17 high quality photos showing the installation of one of the D-020 self-contained, direct-bury air valves), please contact us for more information.