Storm X Litter Collection System
Municipal > Sanitary Stormwater > Litter Removal > Storm X Litter Nets

Tags: Drainage, Ecological, Garbage, Litter Collection, Litter Collection Nets, Litter Net, Municipal, Open Waterways, Plastic Waste, Sewer Overflow, Stormwater, Stormwater Runoff, Stormwater Systems, Storm X


Did you know? Around 90 percent of plastic waste in the world's oceans comes from rivers? The StormX system is engineered to capture gross pollutants and handle powerful stormwater runoff at most urban hot spots.
InfraStruct Products and Services offers products and installation services for the Stormwater Systems StormX System for outfalls.

Commercial grade, reusable nets provide full capture of gross pollutants as small as 25 mm, including organic materials (such as leaves) that could reduce the levels of phosphorous and nitrogen in our water. This economical solution to litter and debris in stormwater runoff is highly effective for "first flush." To prevent flooding, built-in overflows allow heavy runoff to flow unimpeded.
InfraStruct Products and Services is the sole Canadian licensee of StormX. it is the ideal end-of-pipe solution for capturing floatables in combined sewer overflow applications. Additionally, StormX has a proven track record of success with zero failures for more than 15 years.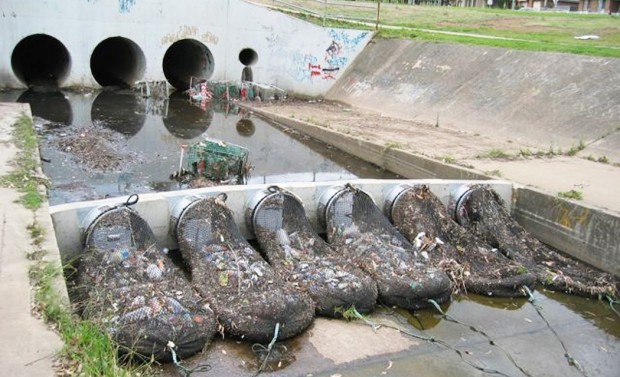 Related Pages and Articles